Parting with your hard earned money is difficult especially to make a purchase when you are not familiar with a brand or manufacturer. When it comes to outdoor furniture the saying "You get what you pay for" rings true. If you want high quality and long lasting outdoor furniture it is going to be a bit more costly.
Quality varies when it comes to outdoor furniture brands. Some brands have struggled with creating furniture that could stand up to what Mother Nature threw at it. We have chosen our top three brands that are of excellent quality and will live up to purchasers standards to share with you.
Breezesta Outdoor Furniture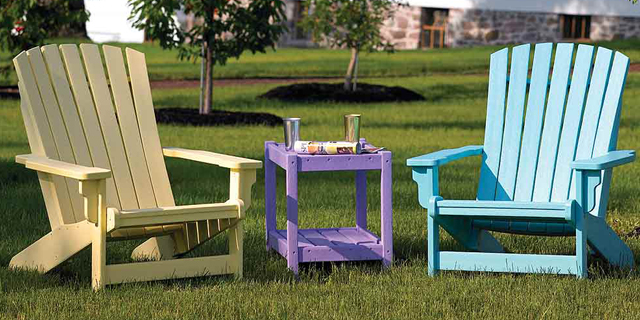 Breezesta Outdoor Furniture is maintenance free, eco-friendly patio furniture with class. Breezesta outdoor furniture removes hundreds of thousands of petroleum-based HDPE (High Density Polyethylene) plastic bottles from America's waste stream to create this line of colorful and comfortable outdoor patio furniture. All of their products are proudly manufactured right here in the USA in a plant in Lancaster Pennsylvania. Each piece also carries a Lifetime Residential Warranty against cracking, splintering, chipping, peeling, rotting, and insect infestation. Breezesta is durable and virtually maintenance free because it is made from 100% recycled poly lumber. Even in harsh outdoor conditions, such as sea-side homes where our furniture is exposed to wind, salt and sand, Breezesta needs little care and maintains its attractiveness. It will not rot or fade, and it resists mold and mildew.
Breezesta offers everything you could need for outdoor furniture; chairs of various heights, tables in a variety of shapes and sizes, benches, swings, gliders and more.
Rustic Naturals Outdoor Furniture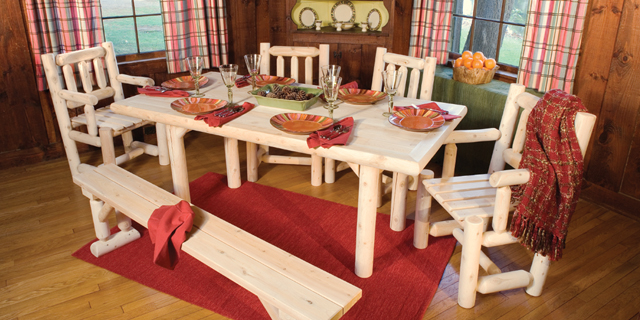 A quality product starts with the finest materials, Rustic Naturals offers just that. They have been producing quality outdoor furniture for over 40 years. Each piece of Rustic Naturals outdoor furniture is constructed of Northern White Cedar and does not get pressure treated or have additional chemical preservatives added. Rustic Natural cedar is hand selected by a dedicated team in their Southern Quebec facility. Cedar outdoor furniture will not shrink or warp as quickly as most furniture timber does. It is also as durable as it is easy to move. You can either leave Rustic Naturals Cedar outdoor furniture in its natural state or it can be painted or stained to accentuate your décor. If you choose to leave it untreated it will weather gracefully to a silver-gray hue over time. Either way this outdoor furniture will last for generations to come. It is not unheard of for a customer to still be using a piece of Rustic Naturals outdoor furniture that was purchased back in 1969.
Add a beautiful dining set to your outdoor space from Rustic Naturals or choose from their large selection of outdoor furniture pieces including picnic tables, settees, rockers, chaise lounge chairs, benches, swings, and garden gliders.
Outdoor GreatRoom Furniture
The Outdoor GreatRoom Company manufactures unique, upscale products with design appeal for outdoor living spaces. They offer an outdoor furniture selection that varies in materials and colors. Entertain in comfort and style with great outdoor furniture pieces from Outdoor GreatRoom's Balsam Collection. Made with the finest materials, the Balsam collection is created to look fabulous and withstand harsh outdoor weather. Add style and comfort to your outdoor living room today with the Balsam collection of outdoor furniture. It is constructed of hand woven HDPE resin wicker with a powder coated aluminum frame. The Outdoor GreatRoom resin wicker outdoor furniture requires very minimal maintenance.
The Balsam Collection from Outdoor GreatRoom Company offers sturdy, functional furniture pieces including a glider, chair, loveseat, coffee table, and ottoman.