There are many variables involved to ensure a safe and efficient wood stove installation. When planning for the installation of a wood stove you always want to make sure that you plan for everything and this includes how you will protect your home's floors or walls.
Protecting the floor surface under and surrounding your wood stove is very important because of the heat that radiates from the stove and also the potential for hot ember to land on the combustible materials. Insurance companies, Local Codes, and even most Wood Stove Manufacturers have some requirements for protective floor coverings no matter the type of floor materials you have.
Wood stoves have minimum clearances that have to be met to consider the installation safe. These clearances will be specified by the manufacturer in the owner's manual or installation guide. Sometimes you need other options so that you can lessen the clearance needed to a wall. Today I am going to discuss with you protective floor coverings and also a way to lessen clearances to walls while protecting them at the same time.
Protect Floors with a Hearth Pad
When you are purchasing a wood stove make sure that you check the owner's manual thoroughly so you know what the manufacturer requires for clearances and ratings for floor coverings. This will allow you to plan an installation that will meet all requirements. Installing a hearth pad is going to be the best option for protective floor covering.
Hearth pads are sections of fireproof material that can be used underneath wood, pellet and gas stoves to protect floors from sparks and embers. Hearth pads are available for corner installations or installations where the wood stove is placed in the middle of a room or near a flat wall. There are so many styles available that you are almost guaranteed to find one that will suit your home's décor.
Our WoodEze hearth pads are constructed of a layer of particle board, a top layer of slate, stone or tile, thin set and grout. All of the WoodEze Hearth Pads have been tested and approved to the most current UL 1618 standards by OMNI Testing Laboratory. These hearth pads measure approximately 1 ¼'' – 1 ½'' thick. They are finished off with traditional angle iron edges.
If you prefer or are required to install a raised hearth under the wood stove that is being installed there are matching risers or pedestals available for purchase separately from the hearth pad. The riser will raise the hearth pad about 5-6'' from the floor. Each riser is constructed of a wood frame that has a finished outer edge to match the corresponding hearth pad. When installing the riser it is recommended to be gentle with it, no dropping it onto the floor because the finished edge is not as sturdy as the hearth pads. Dropping it could cause some of the slate pieces to crack or break completely off. Be gentle!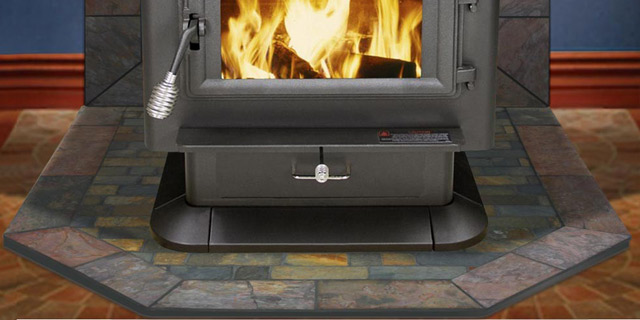 Lessen Wall Clearances with a Wall Board
If for whatever reason, you cannot install the wood stove far enough away from a wall or walls there is a way to lessen the clearance needed…install a wall board. Adding a non-combustible wall board to the wall surface will allow you install the wood stove closer to the wall. Not to mention it gives added protection to the walls and looks great!
The WoodEze Wall Boards are constructed the same as their hearth pads. They provide a shield between the stove and the wall to protect the wall from the high temperature heat output.
To install a wall board you should have spacers to install on the wall to keep an open space 1'' think for air to flow through. The spacers do not get attached directly to the wall board, which would require you to screw into the board compromising the wall board's integrity. The wall board will be attached to the wall with "L" brackets and then will rest on the installed spacers.
I hope you have found this information to be helpful but if you still have questions please leave them in the comments section and I will be sure to get the answers for you! And if you have any wood stove or hearth topics that you would like to know more about please leave those in the comments section as well!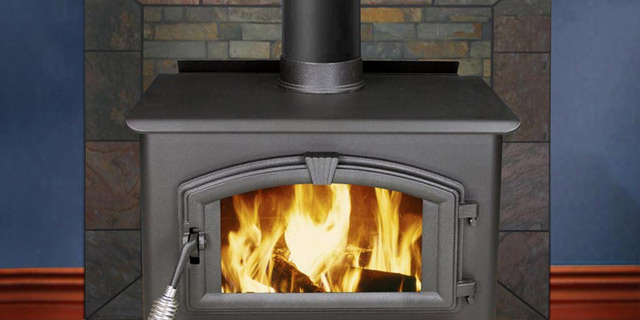 Click here to shop our Hearth Pad inventory!