A fireplace tool set is a great item to have on your hearth next to your fireplace or wood stove. With so many different tool sets on the market how are you to know which tools you will need and what ones you don't?
We are going to clear this question up for you today and also give you a list of the Top 5 most purchased tool sets here at NorthlineExpress.
What Tools to Look For
Even the most economical of tool sets include the basic tools that are most used. Look at tool sets that include at least a shovel, broom, and poker. The poker is to help you move logs around the firebox and stir up the coals for starting a fire. The shovel and broom are for when cleaning ashes out of the firebox or keeping the surrounding hearth area free of wood debris. A set of tongs has also become a popular tool that is included in most 5 Piece tool sets. The tongs make moving logs and precise placement much easier.
Top Selling Tool Sets
Being a retailer for Home and Hearth products, we see many different types of tool sets from the bare minimums to elaborate all in one hearth racks. We can tell you all day long which tool set is the most recommended but the proof is in the sales. So here are our top purchased Fireplace Tool Sets.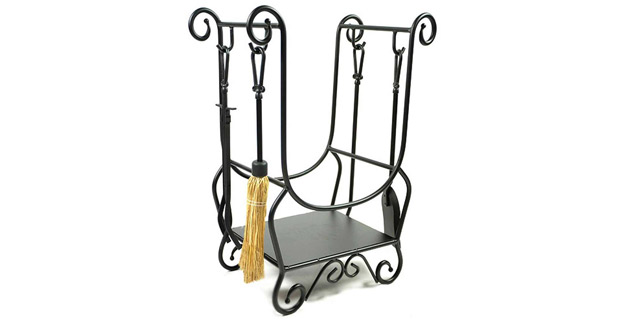 #1 – Black WoodEze Scroll Wood Holder with Tools & Shelf
Add charm and organization to your hearth with this all in one hearth accessory! It's a beautiful way to keep your fireplace tools, firewood, and fire starters in a convenient location on your hearth. A must have item for all wood burners!
The rack includes a shovel, poker, tongs, and a broom to keep your hearth tidy! Each tool features an intricately designed textured handle that matches the scroll work on the rack itself. The overall dimensions of this hearth rack are 30″ H x 24″ W x 13″ D. This hearth rack does not require any assembly other than hanging the tools in place!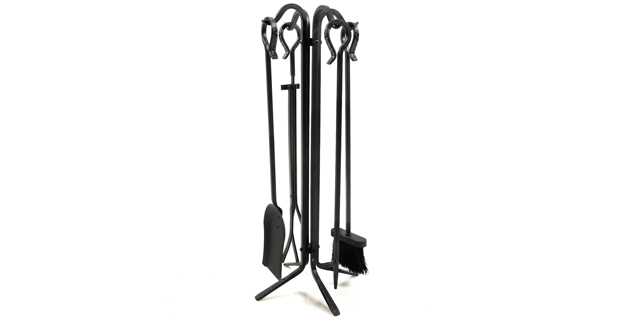 #2 – 5 Piece Black Wrought Iron Fireplace Tool Set
Add a little extra style to your fireplace and hearth with this traditionally styled tool set. This handsome set offers a classic design and sturdy construction that will help maintain your hearth in beautiful fashion for many years to come.
This tool set is made of heavy-duty wrought iron for strength and durability and has a powder-coat finish for lasting great looks. Set includes a brush, poker, tongs, shovel and tool stand. Stand measures 27″ high & tools measure 25″ long.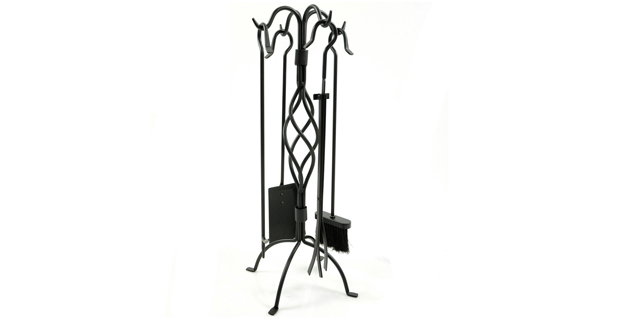 #3 – 5 Piece Black Spiral Design Fireplace Tool Set
Twist things up on your hearth this season with this practical & functional 5 piece fireplace tool set. This 5 piece tool set is sure to be everything that you need to add to your hearth. The tools and stand are constructed out of steel and have a classic black powder coat finish. The powder coat finish ensures years of good looks by holding up to wear from daily use.
Each tool in the set features a crook design handle to compliment the spiral stand. With overall dimensions of 28 1/2″H x 9 1/2″W x 9 1/2″ D it is the perfect size tool set whether you are using it with a fireplace or wood stove.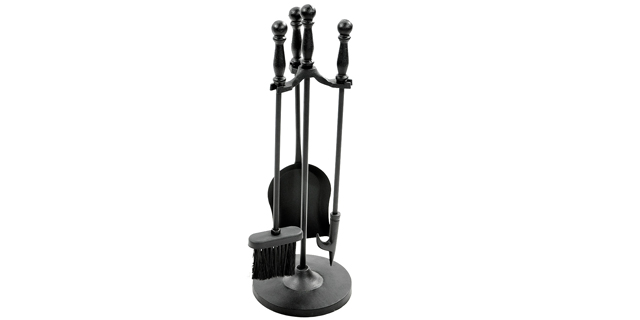 #4 – 4 Piece Black Mini Fireplace Tool Set
Not much room on your hearth for large hearth racks or tool sets? No worries we have just the set for you…The 4 Piece Mini Fireplace Tool Set. This mini fireplace trio includes a shovel, broom, and a poker with a black matte finish. The ball and step handles ensure that you have a more comfortable grip when using these tools.
The stand is also black matte with a ball handle and a round base. This mini hearth tool set is hand-forged of durable wrought iron for years of dependable service. It measures 22″ high overall.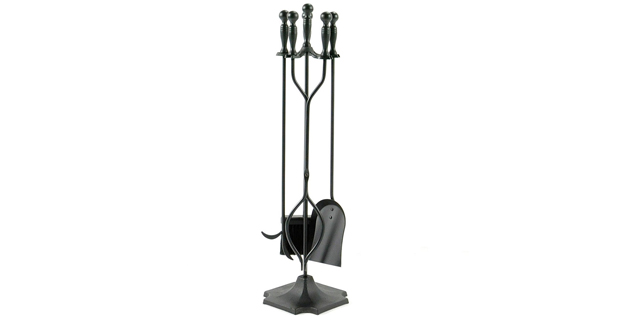 #5 – 5 Piece Black Fireplace Tool Set
Keep with the feel of a traditional fireplace with the 5 Piece Black Fireplace Tool Set. It offers a traditional ball handle design that is just right for most any hearth. It's solidly constructed from steel for strength and durability sure to provide satisfactory service for years. It has a handsome powder-coat matte black finish for lasting great looks.
The tool set includes a brush, poker, tongs, shovel and tool stand. With a 31 1/2″ length you can reach the back of your fireplace with ease. A black powder coat finish keeps your tools looking great on display.
I hope that you found all of the information to be helpful but if you still have questions about fireplace tool sets please contact our customer service department at 1-866-667-8454.
Shop the complete inventory of Fireplace Tool Sets here!