Wood Burning Accessories to Make Life Easier
Hi, I am Melissa from NorthlineExpress and today I am bringing you my top 5 favorite wood burning accessories. There is an abundance of wood burning accessories out there that are going to be "must have" items but these are ones that I have personally tried and made my wood burning easier. Having these 5 wood burning accessories on hand will make the heating season that much easier for you as well. So let's take a look at each of the items.
Wood Burning Accessory #1: Log Splitter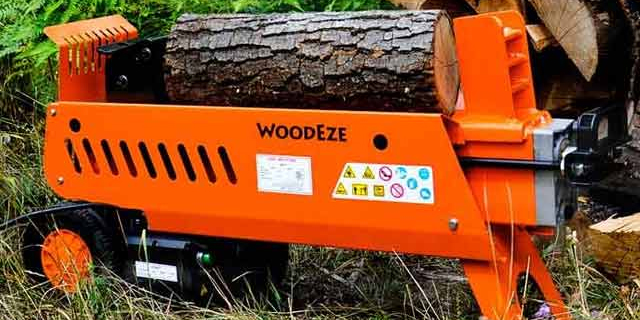 The most obvious of the wood burning accessories is good log splitter. I personally use the WoodEze 4ton Electric Log Splitter, this is also the model of log splitter that we use at NorthlineExpress to split our wood supply. Now if you watch my video you will notice that my log splitter is yellow and the current 4ton model is orange. This is because I have had my log splitter for 5 years and have not had any reason to replace it with a new one.
WoodEze also has a 7ton Electric Log splitter which could be used to split a little bit bigger load of firewood. Now keep in mind that if you will need to split firewood out in the woods or at remote locations an electric log splitter will not be the best for you. You will want to look at a gas log splitter for a more portable option.
Watch the How to choose a Log Splitter Video here.
Wood Burning Accessory #2: Moisture Meter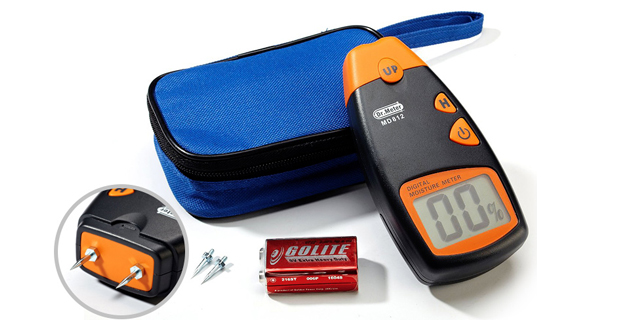 Next of the wood burning accessories is going to be a firewood moisture meter. I have the AW Perkins Firewood Moisture Meter. It is definitely the smallest of the wood burning accessories I have but it is one that I think every wood burner should have. It will give you a reading of the moisture level on it LED digital screen. Why is this so important you ask? Well because any firewood with a reading of 13% or higher is not considered seasoned and should never make it into your fireplace or wood stove.
Burning firewood with high levels of moisture causes excessive amounts of creosote to buildup in a chimney's flue. Creosote is a highly flammable substance that you do not want excessive amounts built up in the flue putting your home at risk of a chimney fire. So take precautions by only burning wood that you know is completely seasoned and has been checked with a moisture meter.
Wood Burning Accessory #3: Mingo Firewood Marker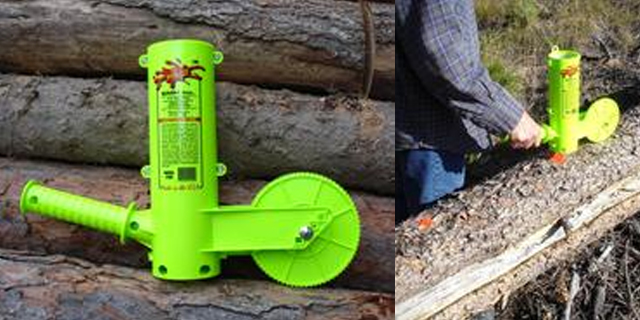 If you're looking for a tool to help you evenly cut your firewood, I have the perfect accessory for you. The Mingo Firewood Marker is definitely one of my favorite wood burning accessories because it take the guess work out of cutting log lengths. The Mingo Marker accurately measures and marks logs faster than conventional methods. Wood burners who have outdoor wood burners will not think this tool is as helpful as the ones that have an indoor wood stove where the length of the log matters.
Here's how it works:
Install appropriate wheel for marking
Shake paint can for one minute
Loosen wing nut until wheel rotates easily
Install paint can
Gently drag The Mingo backwards on log at least 18 inches or until wheel stops turning and stop when paint nozzle is directly over the edge of the log
Next roll The Mingo forwards down the log keeping the paint can in a vertical position
When finished always clear nozzle of paint
Always rotate wheel backwards manually until cam hits the trigger and tighten wing nut to prevent accidental spraying
Wood Burning Accessory #4: WoodEze Expandable Firewood Rack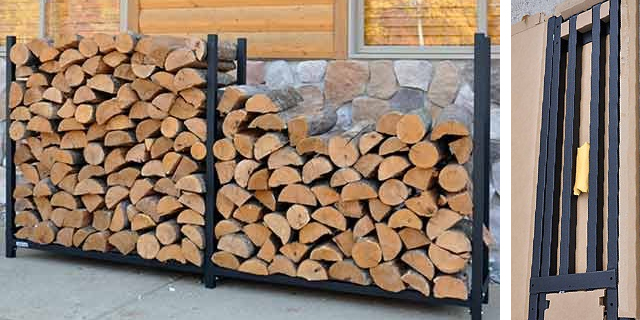 Okay, now you have all of this firewood where do you store it? One of my all-time favorite wood burning accessories is the WoodEze Expandable Wood Rack. This wood rack starts out at 4ft long but as you need more space you can add 4 ft. extension kits to make the firewood rack as large as you need. I have added 3 extension kits to my starter rack already.
The WoodEze Expandable Wood Rack has earned recognition as a favorite among homeowners and wood burners for its electro powder-coated black finish. The finish is essentially scratch and weather resistant and the stainless steel hardware is guaranteed to never rust. Aside from the hefty construction, the WoodEze Expandable Wood Rack offers an easy assembly. It only takes a matter of minutes to have the firewood rack put together and ready to be loaded with wood.
Wood Burning Accessory #5: Fireplace Gloves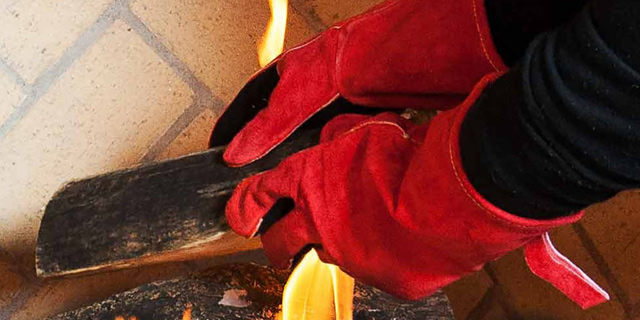 The last of the wood burning accessories that I am recommending today is to have a good pair of fireplace gloves. Never worry about burning yourself while adding firewood to your fireplace or stove again, or touching the hot handle or screen. A good pair of gloves will protect you from the heat and burns. I have a pair of fireplace gloves that I have learned to use all the time and it makes it so much more convenient placing logs where I want them in the fire. Fireplace tools do a good job but it is difficult to be precise with log placement with a poker or shovel. The interior features a full lining of non-asbestos felt and welted seams to protect fingertips. A 100% split cowhide exterior stands up to the heat, resisting burn through. There are also long versions that will protect your arm up past the elbow from bumping into hot surfaces and getting burned.
Check out the Fireplace Gloves Demonstration Video!