Do you have a small patio area and you just don't know where to begin with making it a usable space? Just because you have a small outdoor space does not mean that you cannot make the most of it! There are so many ways to turn it into a space that you can enjoy and even entertain a small group in if you would like.
Whether the outdoor area that you want to revamp is a small deck, patio, balcony, or garden space it is very possible to get everything you want out of the space. It is all about planning and choosing the right decor to give it the feel you are looking for as well as the illusion of a larger space. Check out these helpful tips to get you started with your outdoor revamping!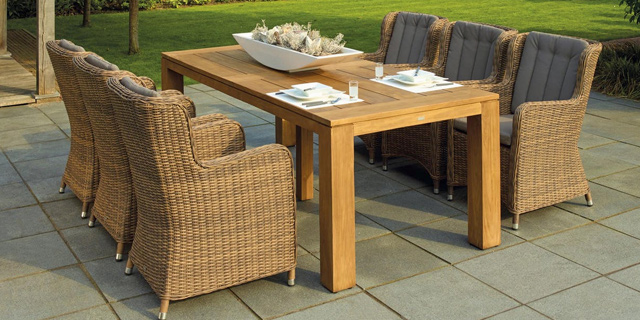 Clear out your Small Patio Area
It is always best to start with a clean, blank slate! Completely clear everything off or your small patio area. Even if you are thinking about reusing certain items pull everything off so you can get a clear picture of the area that you have to work with. When the space is empty you may notice spaces or corners that were otherwise hidden before. This will also give your imagination the opportunity to run wild. Think about what you would actually like to use the space for whether it is relaxation, entertaining, or something completely different. You will dream up many different options for the small patio area that you currently have.
Create a Sketch
Once you have a good idea of what you would like to use the small patio area for, now is the time to think about how you want the area to look. What better way than to get a good visualization than to sketch your ideas out? Create a few sketches, trying different layouts or different types of furniture. Try layouts that have the patio furniture along the wall of a dining table in the corner, even try ones that use larger pieces of patio furniture like a chaise or sectional bench seating. Creating multiple sketches will allow you to get all of your ideas out and then choose the one that you feel will best suit your small patio area.
Choose Space Saving Furniture
Who wants their furniture pieces to take up the whole small patio area? I know I don't, I want to be able to maneuver around and sit comfortably. So think about ways to incorporate space saving furniture while getting the most of the area. You can choose furniture sets that are stackable so they can be used when needed and when they are not needed they won't be an eye sore stuffed in a corner. If you want to include a lot of seating consider placing it along the perimeter of the patio area so you have all of the inner space to move around or entertain in.
Match Furniture to the Space
Maximize the amount of space that your patio area has to offer by choosing furniture that will fit in the space and compliment the patio area. If you are considering a dining set choose a table that is the same shape as your patio area and size it appropriately so that the set does not take up the whole space. You want to leave enough room to move around the chairs and table comfortably. If privacy is a concern think about adding a tall fence that you can hang plants or allow plants to vine up for a cozy feel.
Opt for Chairs
If you do not plan to use your patio area for dining than you can forgo adding a dining table and include a few more comfy chairs. Place a few side tables in between the chairs to offer a resting spot for beverages or snacks. Having a patio area with great seating and everyone is facing the center makes for a more intimate conversation area. It will allow all of your company to feel included and no one left sitting off in a corner alone feeling like a loner.
Border with Tall Trees
Having a small patio area does not allow you to have a large garden and also limits the amount of space you have for potted plants. If you still want to have the cozy feel that flowers and plants create for a space border your patio area with tall trees or shrubbery. Make the space feel larger than it really is by adding smaller plants in front of larger ones, this will create an illusion of depth and make the space feel bigger.
Create a Large Illusion
Get the best of both worlds with an outdoor rug! Incorporating an outdoor rug into your patio area design will protect the flooring from fading and wear. A thoughtfully place outdoor rug will also give a small patio area the impression of more square footage. Choose a rug with a simple design for a clean and uncluttered feel. Tie the rug in with the decor in your patio area by adding pillows and other accents that pull colors from the outdoor rug.