Holiday season is upon us. The time from Thanksgiving to New Years is often dedicated to quality time and celebration with family and friends. Make your fireplace stand out this season and impress your guests with our great selection of fireplace décor.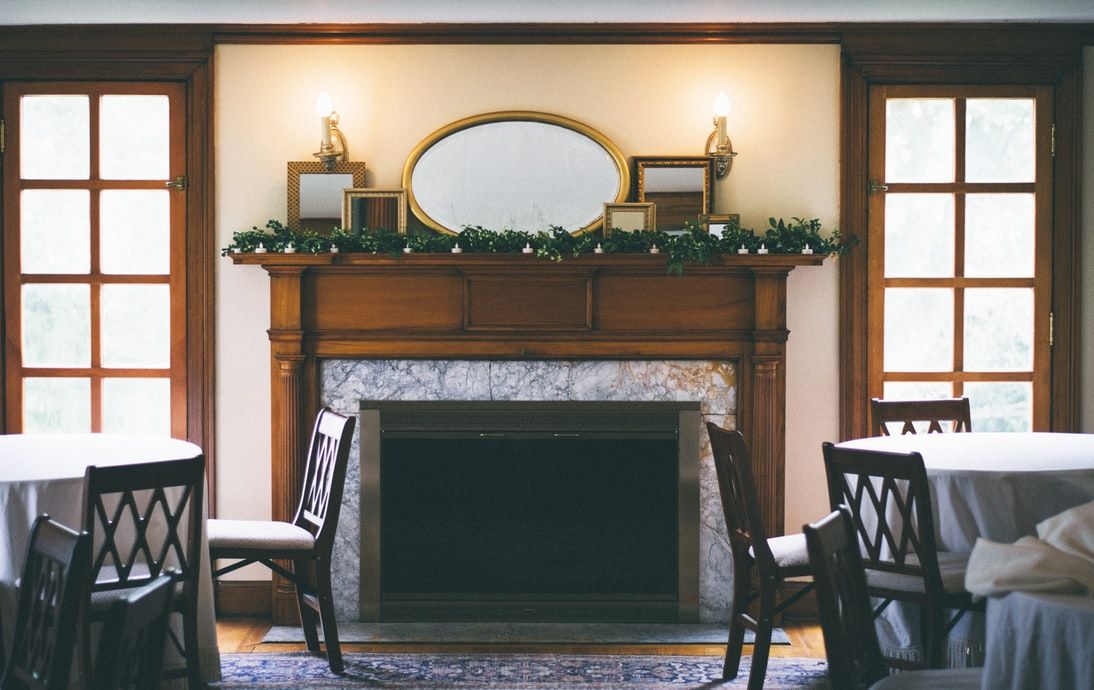 Fireplaces are often the focal point of a home. They provide a great location for family gathering and relaxing with a mug of hot cocoa. Fireplaces can also leave a lasting impression on guests when accessorized! Northline Express offers a great selection of fireplace accessories that are sure to make your fireplace stand out. Some accessories include:
Fireplace grates and baskets
Fireplace screens and doors
Hearth and fireplace rugs
Bellows
Ash buckets
Candelabras
Fireplace tool sets
Firewood holders, carriers, and rolling carts
Mantels
Fireplace glass
And much more!
Mantels
Nothing makes a greater statement than the mantel above your fireplace. Display your most cherished photographs, knick knacks, mirrors, decorative holiday garlands, or an elegant candelabra - the options are endless! Northline Express has a large and diverse selection of mantels. We offer both surrounding mantels and shelf mantels made from a variety of woods and finishes to achieve the ultimate vision you have in mind. This Deauville fruitwood finish surrounding mantel by Pearl Mantels will provide glamour and sophistication, and will certainly stand out even when left bare!  If the interior design of your room doesn't call for such an elaborate carved mantel, we also carry more simplistic yet beautiful options such as this Shenandoah distressed medium oak shelf mantel. No matter which mantel you choose, it is sure to showcase your treasures and delight your guests!
For helpful links on how to measure your fireplace for a mantel, how to choose the right mantel, how to install your mantel, how to decorate your mantel, and FAQ, visit this page.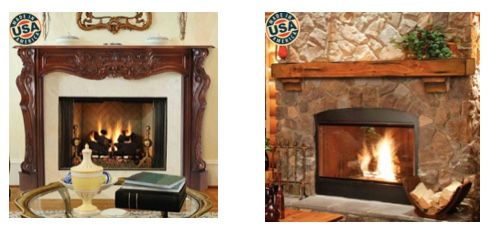 Fireplace Screens and Doors
Having a fireplace can be dangerous, especially when there are children and pets in the home. Make your fireplace safer yet stylish by installing a fireplace screen. Northline Express has a vast selection of screens, including hanging screens, folding screens, fireplace doors, and more! Spark Guard screens add an additional level of protection by keeping all stray sparks and embers in the fireplace.
Don't see any screens that really fit your style? Our fireplace screens are able to be customized! Visit the link below to see our variety of custom shapes, sizes, and metal finishes with additional information on how to measure your fireplace for the perfect screen.
Tool Sets
No fireplace is complete without a tool set to maintain cleanliness and organization. Tool sets commonly include a shovel, poker, tongs, broom, and tool stand, but components may vary by brand and style. As always, Northline Express has a huge selection of fireplace tool sets including copper, brass, bronze, brushed steel, hand forged iron, nickel, stainless steel, and pewter options. One great, timeless option is this Pilgrim 5 Piece tool set, made using heavy duty cast iron with a sophisticated matte black finish. For a more traditional look, check out our 5 Piece Antique Brass tool set, also made using durable cast iron with shiny brass plating.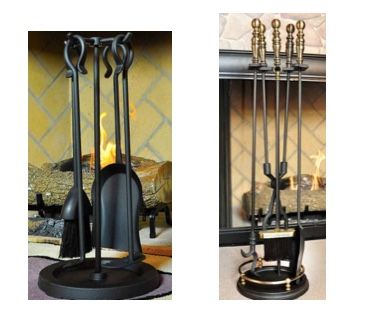 Firewood Racks, Log Holders, and Firewood Carts
Stock your firewood in one of our several firewood hearth racks, both fashionable and practical! Our firewood racks come in a variety of styles, from black metal with canvas, to wrought iron and suede leather, and everything in between. The metal frame will ensure durability and strength to easily hold and carry firewood. For additional functionality, some firewood racks (like this one) come complete with an upper rack for kindling and also a shovel, poker, and natural fiber broom to keep your hearth spotless and clean (while eliminating the extra cost of buying a fireplace tool set)! If you're looking for something more traditional without all the bells and whistles, we also carry more basic firewood racks that still get the job done while looking lovely on your hearth, like this black wrought iron log holder. Or, make carrying firewood inside a breeze with one of our rolling firewood carts!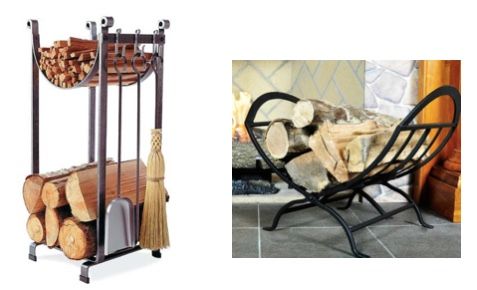 Make your fireplace stand out this holiday season and for years to come. Our stylish fireplace décor is sure to make all your holiday guests turn green with envy! For one week only, receive 10% off all fireplace décor! Note that this discount includes more than is detailed in this post, so check out our website for all we have to offer! Then, sign up for our email newsletter below so you never miss a great discount.
---
Keep up to date on our current promotions and have coupons sent directly to your email by signing up for our email newsletter here.
Have questions or comments? Please contact us toll free at 1-877-734-2458.