Outdoor Kitchens are becoming a hot new trend that homeowners look for when purchasing or when they are considering upgrades to their current homes. Transforming your deck or patio into an outdoor kitchen will give you all of the conveniences of indoors without the hassle of leaving your guests to tend to the meal.
The possibilities are endless when it comes to building an outdoor kitchen. The idea of an outdoor kitchen can be a bit scary when you start looking at all of the possibilities. Don't let that scare you away from having the outdoor kitchen of your dreams. Follow these tips to lock down your outdoor kitchen designs and incorporate all of the amenities that you desire while staying within your budget.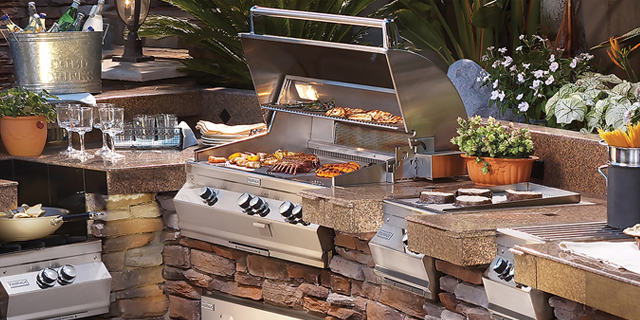 Set a Realistic Budget for your Outdoor Kitchen
Building an outdoor kitchen can be costly; setting a realistic budget will help you to determine what features you will be able to incorporate into your design and what features that you could add at a later time. Depending on how elaborate the design is your costs can easily creep up close to the $25,000 range. Just remember that you do not have to drop big bucks to have a cooking area outdoors. To keep cost down take into consideration how often you will use each feature to allocate your budget appropriately.
Pick the Perfect Location
When choosing the right location for your outdoor kitchen consider all aspects of your outdoor space. Do you have enough square footage on your deck or patio for the size kitchen you desire or do you have clear an area for it? Is there a view that you would like to appreciate while cooking or entertaining? Be conscious of the wind direction; position your area so that smoke from cooking surfaces will blow away from where people will be sitting. If you have a pool area make sure that there is enough of a walkway between it and your kitchen area to prevent hazards.
Narrow down the Appliances that are to be Included
There are so many options for cooking areas and accessories that it is hard to narrow them down. You need to decide what appliances will actually be put to use. What type of grilling/cooking area do you want? Do you want it to be built-in or portable? Are you going to include a pizza oven? There are grills that are built on a rolling cart and include storage underneath to allow portability. It is important to decide whether you will be including a refrigerator, sink, warming drawers, additional burners or other optional appliances at the beginning of your design plans. Knowing this for sure will allow you to plan out the size of your outdoor kitchen.
Make Sure You Plan for Ample Storage
Who wants to deal with hauling arm loads of items in and out of the house each time that they are using their outdoor kitchen? Planning for storage accordingly will eliminate the hauling. Make sure that you consider how many drawers or cabinets you will need for towels, utensils, napkins, dishes, seasonings, etc. For utensil storage you may even want to add a metal bar and hooks to have them easily accessible. Or what about a hanging rack for pots? The more accessible your outdoor kitchen is the more you will be using it!
Choose Durable Materials from Top to Bottom
Choosing durable materials does not just stop with the appliance materials. Yes, you want to make sure that all of the appliances that you are incorporating will stand the test of time but this also goes for your flooring, shade covering, and counter materials. It is recommended that your flooring consists of tile, concrete, or stone and should be easy to clean. You want counter spaces that can be easily wiped clean like stainless steel, tile, or sealed concrete. If you choose to build a shade covering pick one that is durable and will be able to handle the heat that will be given off from your outdoor kitchen area when in use.
Think about Seating Accommodations
Are you going to have built-in seating or a dining table and chairs? For small space challenged areas built-in seating is a great option and can be worked right into the design of your outdoor kitchen. If space is not a concern then you will just need to determine how large of a dining set you will need to ensure enough seating when you entertain. Add bar stools to your counter areas if possible, not only will this give extra seating but it will also allow guest to interact with you while you are cooking.
Consider Providing Shelter from the Weather
No matter if it is rain, wind or an extra sunny day, inclement weather can put the kibosh on enjoying your outdoor kitchen! Consider building a covered are to shade and protect people from the elements. Pergolas or awnings are great if you are looking for a permanent built-in option. But if you want a covering that can be put up or taken down with ease consider using Shade Sails. These can cover a small area or you can use multiple to cover a large or abnormally shaped area.
Other Little but Important Considerations
There are a few other little features that you should consider because they can make a world of difference.
Think about including conveniently placed outlets near you cooking surface and counter areas. Having enough outlets is important as well.
Is there a need for lighting? If you are going to using your outdoor kitchen in the evening/night hours you will want to consider adding light sources.
Protect your investment with covers for your appliances if there is no roof or overhead covering.
A vent hood could be necessary if you will not have adequate air flow to ventilate the kitchen area.
By taking all of these tips into consideration you will have a concrete plan for the Outdoor Kitchen of your dreams that you will be able to utilize for years and years.