The first time I saw the LifeTime Fireplace Grate from Custom Firescreen was at the Hearth, Patio & Barbecue trade show a few years back.  The unique 1″ wide steel bar design and unheard of Lifetime Guarantee really grabbed my attention.
Needless to say, I was skeptical.  Anyone who burns wood on a fireplace grate knows that you have to replace your grate every couple of years because eventually they "burn out".
So when I saw this unique design and guarantee I had to take a closer look…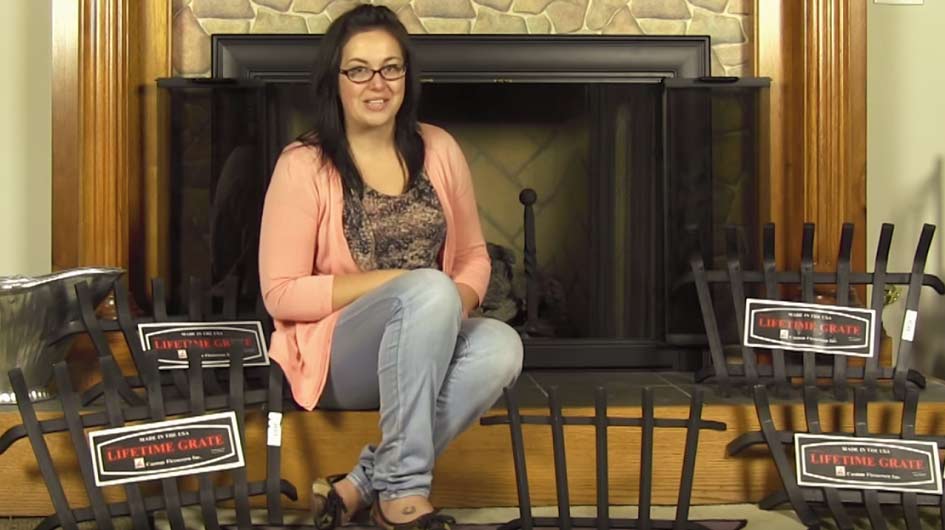 When it comes to steel products* the weight of the product* is typically a good indicator of quality.  After picking up the LifeTime grate I could immediately tell this was a superior grate to anything else I had ever seen.
Later when I had a chance to compared the weight of a typical 36″ steel bar grate with the 36″ LifeTime Grate side by side it was obvious where my money was going.
Typical 36″ Steel Bar Grate = 28 lbs
36″ LifeTime Grate = 39 lbs
You're getting 11 lbs more steel in the Lifetime Grate!
Now if you've ever had a fireplace grate "burn out" you know that 9 times out of 10 it burns out at a weld.  On a typical steel bar grate the weld is the weak spot.
Click to enlarge
Click to enlarge
Notice the spot welds on this typical steel bar grate.  The steel bar is diamond shaped and so the point of contact for the weld is very small.
After frequent firings and over time this weld weakens and the grate "burns out" meaning the steel bars detach from each other and the grate falls apart.
This is common with steel bar grates and they typically need to be replaced every couple of years.
Compare that to the welds on a LifeTime Fireplace Grate.
Because they use 1″ wide steel bars they have a much larger area to weld which allows for a superior hold.
Each bar is heavily welded all the way around for a total bead of about 4″ compared to about a 1″ spot weld on your typical steel bar grate.
I believe these two factors, heavier steel bars and superior welds set the LifeTime Fireplace Grate in a class of its own.
The fact that they're Made In The USA is a breath of fresh air as well.  Custom Firescreen is located in Iowa and has been manufacturing fireplace doors, screens, grates and more for over 30 years.
Custom Firescreen is a quality manufacturer who takes pride in their work, and it shows in the LifeTime Fireplace Grate.  We commend Jerry and all the guys and gals at Custom Firescreen for creating a better Fireplace Grate.
We offer Custom Firescreen's full selection of LifeTime Fireplace Grates at NorthlineExpress.com and we have a great relationship with Custom Firescreen so if you ever do have a problem we can get it taken care of.