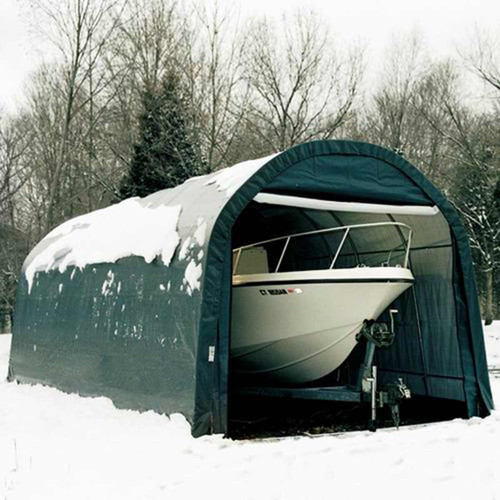 The harsh weather that comes along with autumn and winter is just around the corner. While we are saying goodbye to the long warm days of summer and getting ready for the seasons to come, we start to think about chores like yard clean up, putting summer toys away for winter and if you are like us here in northern Michigan you prepare for the inevitable snow pile up.
For some people these are simple and routine tasks, but if you are like me and everybody, I know 😉, we spend all summer acquiring new things; toys (boats, cars, and ATVs, etc.), yard décor, new tools, ya know things like that that will need a place to spend the cold months undercover, protected from the snow and ice. If you don't have a permanent garage attached to your home or close by already this may pose a slight issue, especially if things like area building codes or your budget will not permit you to add one.
The solution 🤔? Carports and Portable Garages! 🤗 Let's dig into this a little more...
What's a Carport? Are carports and garages the same?
So, the first thing that comes to mind with this storage solution is most likely what is a carport? If you don't already know of course. Well first off, I'm sure most of you have, have seen or at the very least know what a garage is; but in case not, it is a fully enclosed structure or storage buildings (4 full walls and a roof), typically used for safe, secure storage, most often for vehicles. They can either be standalone structures, adjacently connected to a home or other building, or a portable building that can be moved if permanent isn't an option for you.
So, a carport, similar to a garage, can be a permanent structure, or a portable version that is movable as necessary, primarily for the protection (cover) of your personal belongings. The difference between the two, however, is that a carport is not a fully enclosed building. A carport has a roof like a garage but as far as the walls go, the number of them can vary from 0-3.
Both are spacious and multifunctional. Whether you are looking for a storage shed to house ATVs, bicycles, motorcycles, firewood, or shelter for your horses to escape the rain or even extra space to utilize when entertaining.
Carports Provide:
Limited Protection - From Precipitation such as Heavy Rain, Hail
Prevents Frost/Ice Buildup on Vehicle
Ventilation
Ease in Assembly
Affordability
Fewer or no Area building code/permit requirements
Can double as extra entertaining space
Protection from Trees and Debris
Keep Belongings Shaded from Damaging Sunrays and at Cooler Temperatures
Garages Provide:
All of the above
Total Protection - Weather & Theft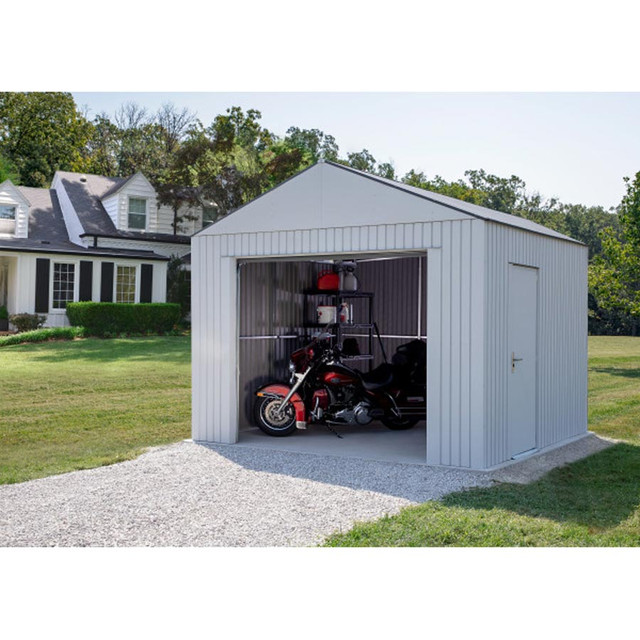 Is a carport kit worth the money? How much does one cost?
Northline Express offers smaller, simpler carport kits starting at just $279.99 allowing you extremely affordable options to keep rain and UV rays off your car or even create a shaded sitting area in your yard. If you are looking for something a little sturdier, with options of upgrading down the road, there are more pricey but dependable and more spacious carport kits. You get what you pay for, if you are looking for a storage structure to keep your investments safe, dry and unharmed by unpredictable weather, spending a little more will give you that security.
Is it Cheaper to Build a Portable Carport or Garage? Price Comparisons
A carport kit is going to be your less expensive option between the two because there is less material and effort involved in making and setting up this structure versus a fully enclosed garage. Keep in mind when shopping for portable storage, some carport options offer optional wall kits to be purchased separately or later on, so if you decide you wish you had a full enclosure, it's possible. 😉
A portable garage is going to have a higher price tag; however, it is going to offer you more value in security and protection from weather and theft.
As always be sure to check your area's building codes prior to starting a project.
How long do portable carports last?
The more heavy-duty versions can last 10 to even 20 years in some cases, with the longevity slightly decreasing depending on the amount of abuse your structure is subject to (that rough weather) and the material it is made of. This is where the wind and rain rated options come into play as well. Make sure you pick a carport or garage that is rated to withstand the weather common to your area, this will ensure your storage unit will last longer.
Who makes the best carport? Shop Carport Manufacturers - Arrow, Shelter Logic, King Canopy, Shelter-It
The ShelterLogic Group -
Our brands are known for their affordability, innovative engineering and durable construction, and are made to meet the unique storage and lifestyle demands of all our customers."
Arrow Storage Products - Has a 60-year reputation of manufacturing some of the most dependable and innovative storage solutions as leader in the steel storage structure industry. Manufactured in the US.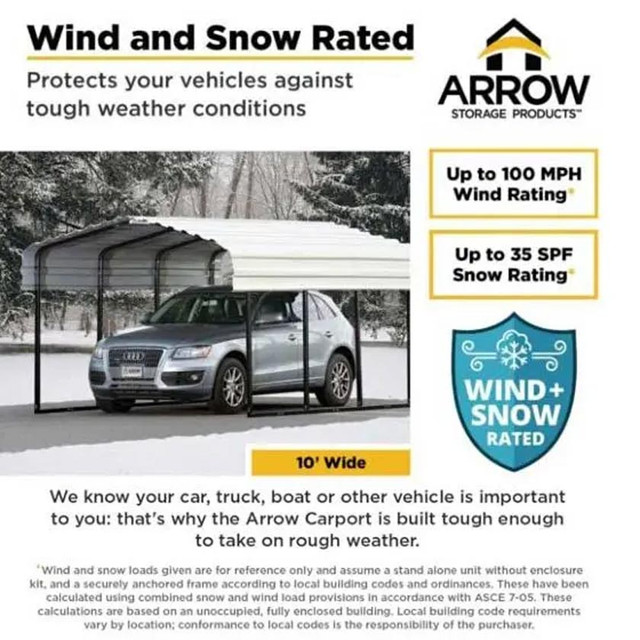 Shelter Logic - Is a leader in the shade, shelter, and storage industry. They pride themselves for being a company that focuses on responsible manufacturing, innovative engineering and close relationships with retail partners and consumers.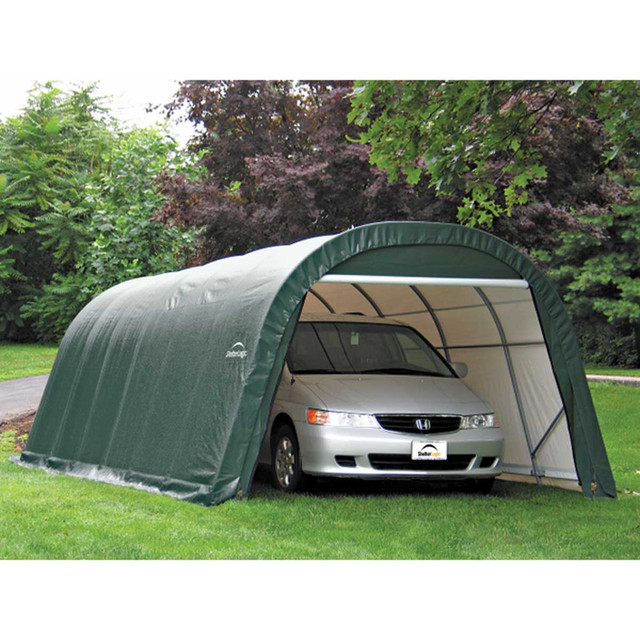 King Canopy - Started as a small family business in 1940 that has grown to be a leader in the shade and shelter market. King Canopy puts their customers first and strive for quality and integrity in each of their products.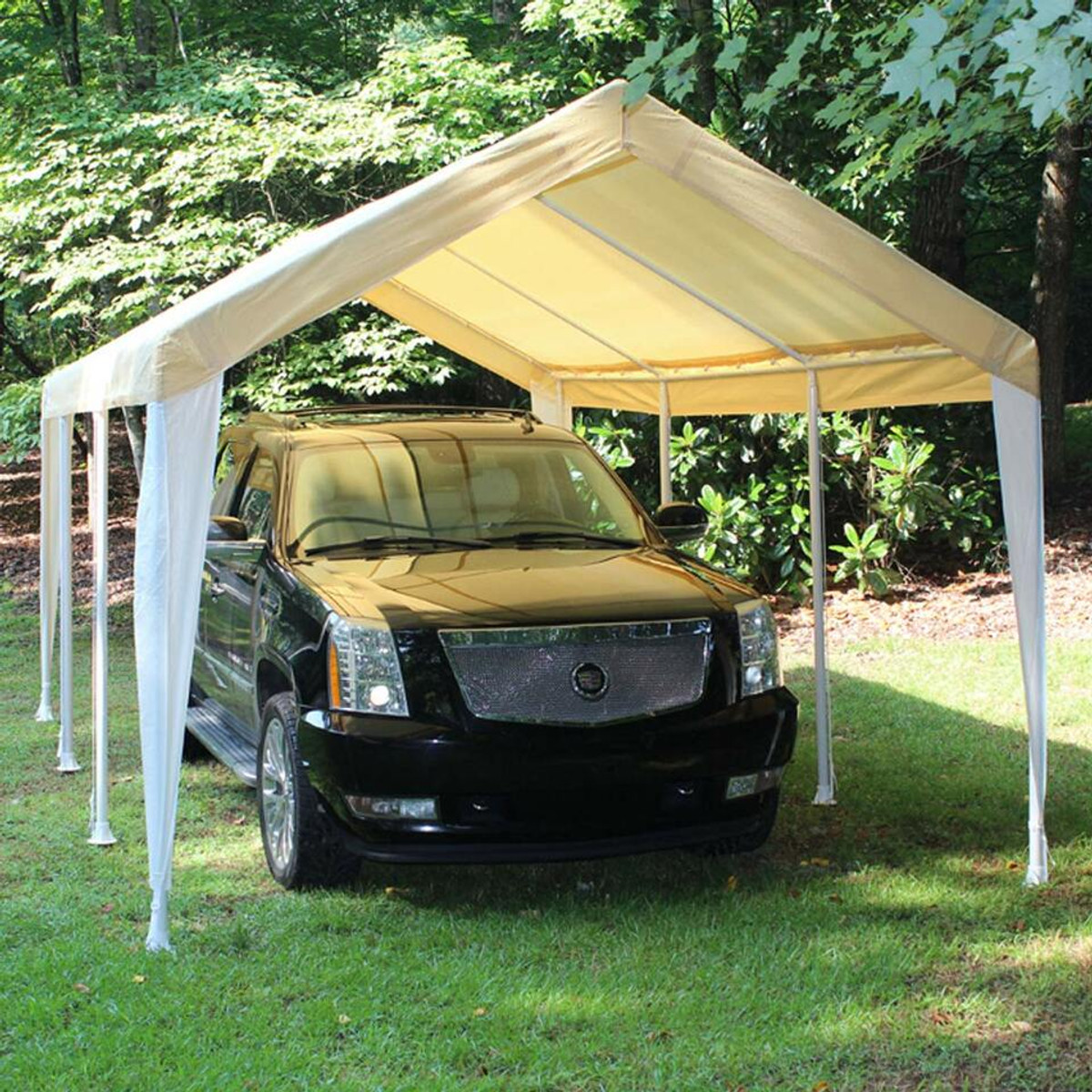 Shelter-It - USA manufacturers of the original Instant Garage. Pioneers of the industry. Has sold well over 300,000 units for disaster relief victims around the world.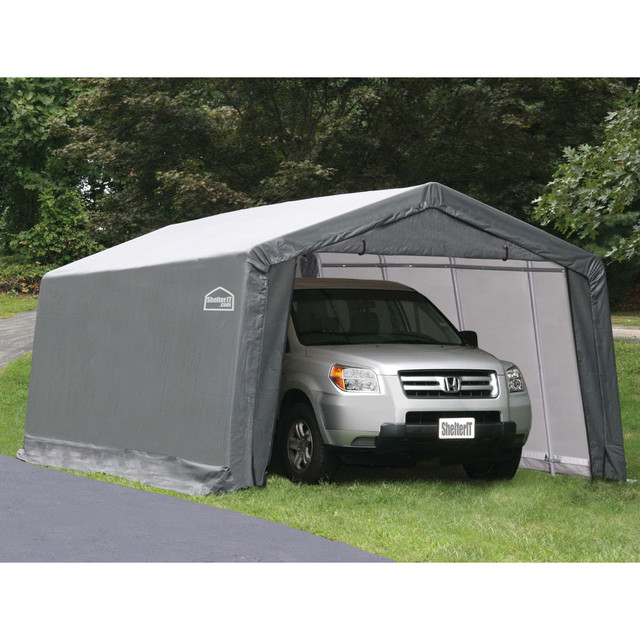 Northline Express is proud to stand behind some of the most well-known names in portable storage in the industry, offering only the best of the best!
How do you anchor a portable garage or carport?
So last concern most people have when it comes to carports or portable garages; it's portable, what's keeping it from falling over or being pushed in those horrific wind storms some areas get? If it's not permanent what keeps it in place?
Most portable structures have anchor sets available, usually to purchase separately, if this is a concern where you live. Most I've seen just require a couple twists into the ground to secure. Northline Express also has these available, just check out the canopy accessories!
Where to buy a durable metal carport? Aluminum? Canopy?
NorthlineExpress.com offers a nice variety of easy to install storage shelters that are convenient for everything from lawn and garden items to larger models made to store vehicles, farm equipment, recreational vehicles and more.
Whether you are looking for a portable garage or car port to protect your car, truck, RV, boat, ATV, or any other recreational vehicle we have you covered with a large selection of outdoor canopy and shed options. We offer a great selection of instant garages and carports, made from the finest mildew and rust resistant materials, they are built to last! With a variety to choose from, there is sure to be a portable garage or carport shelter to fit your needs.
Click now to shop the best selection of Carports, Garages & Storage Sheds.