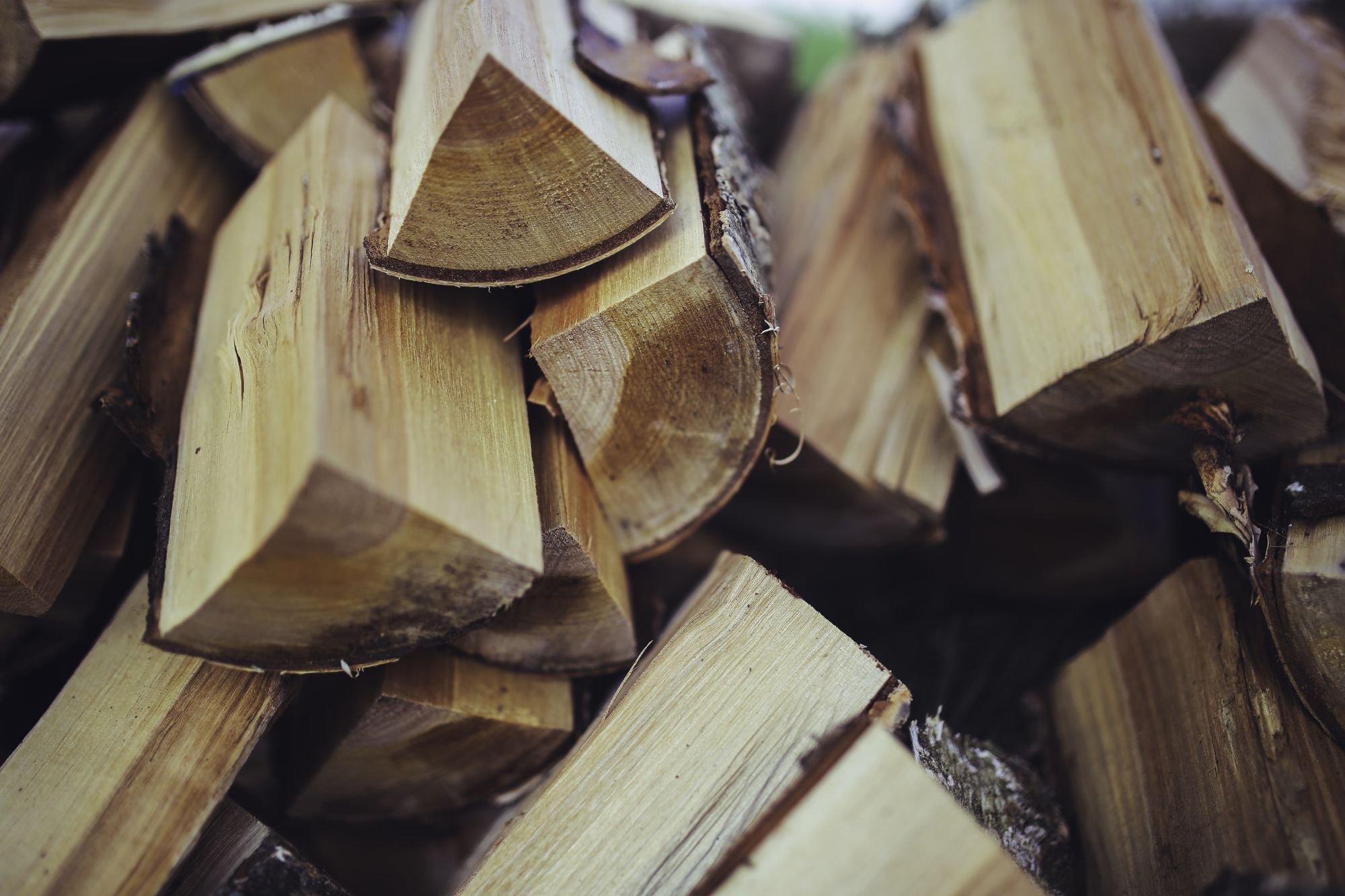 If you have a wood burning stove or fireplace or even a good old-fashioned backyard firepit, having firewood on hand is a must. That means splitting, storing, and hauling it. Let's take a look at some of the options that make firewood storage and preparation a little easier and more convenient.
So, wood burning 101 if there was a such a thing would start out with:
You should always burn dry, seasoned wood. This is firewood that has been stored appropriately, long enough to dry out the moisture inside to a minimum. This ensures a cleaner, warmer burn while cutting back on both smoke and creosote creation and buildup. One way to make certain your wood will dry out as much as it possibly can is to either buy split wood or split it before storing. Split wood has more exposed surface area that when stacked to allow airflow, will dry out more completely and more quickly. You can read more about this in Northline Express's article Guide to Curing Firewood.
Log Splitters & Firewood Racks
So splitting wood, that sounds like fun, right? Personally, I think not. 🙃 I know there are some people out there that will get enjoyment from swinging an axe, but to me it sounds like an injury waiting to happen. If you are like me, we have other options for you.
Log Splitters
Log splitters are tools to do just what they say, split logs. They make this somewhat difficult task a little less daunting and something just about anyone could handle. There are different designs of log splitters, and which is best is all about personal preference.
There are manual log splitters, electric log splitters and gas log splitters. Read more details about the differences between log splitters in Northline Express's article Types of Log Splitters.
Not that we, at Northline Express, like to play favorites but we may be kind of partial to one in particular. 😉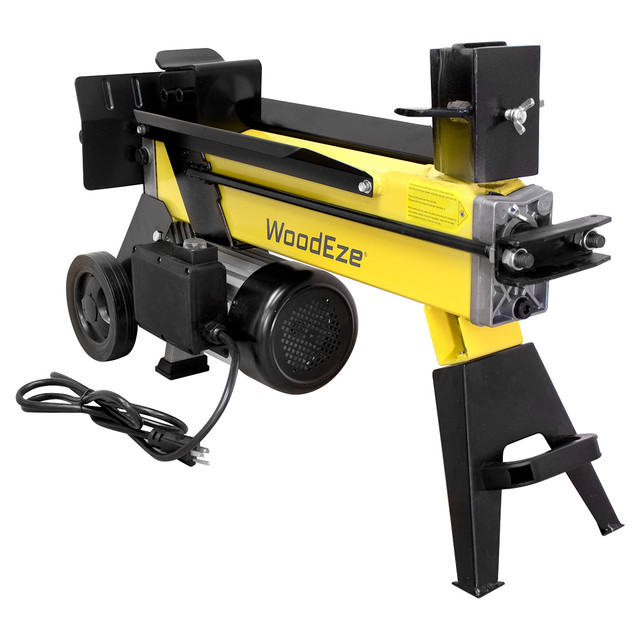 The WoodEze Log Splitter
This unit is not only easy and safe to operate, but it boasts an impressive 4-ton splitting force and can accept logs up to 15" long and 12" in diameter. The WoodEze 4-Ton Log Splitter is on the smaller side making it accessible and convenient for even everyday use. Click on the image to read and learn more. See it in action in our WoodEze 4-Ton Log Splitter demonstration video below.
So now you have all this split wood. Not only does a large pile of split wood look messy and cluttered, but it also poses issues like holding moisture leading to rot, critters looking for ready to move in real estate and in some areas, it can result in fines for violating certain codes or regulations. Your best bet is to get that wood up off the ground. Let's talk about firewood racks.
Firewood Racks
What is the best way to store firewood? Is it better to store firewood inside or outside? Covered?
Firewood racks. Firewood racks are probably your best option when it comes to storing and stacking firewood. A well-designed firewood rack will not only get your stack of wood up off the ground, but it will help support it completely and should last season after season.
As far as indoors or outdoors, I would have to say that depends. If you have purchased kiln dried, split firewood than indoors poses no real threat. If you are like me though, moving a outdoor stack of wood indoors makes me uneasy, mainly because small critters and insects like to live in the stacks of wood and tend to make their way indoors with the wood somehow. 🐁 🐿️ 🕷️ Eeeessshhh! 😬 I suppose if you have a garage or a storage shed with the room for a firewood rack that might be a different story. It is perfectly fine however, to store your firewood outside when stacked on a firewood rack and covered.
You worked so hard to get your wood split, stacked and dried, you should really try to keep it protected from environmental elements like rain and snow. Most rack designs are intended to accept a cover, something weather resistant that still allows for some airflow would be optimal.
Outdoor Firewood Racks & Covers
Northline Express offers a ton of reliable, popular name brand firewood racks, all of which will get the job done and done well. We are proud to stand behind any of these brand items, however as I mentioned before we tend to be kind of partial from time to time…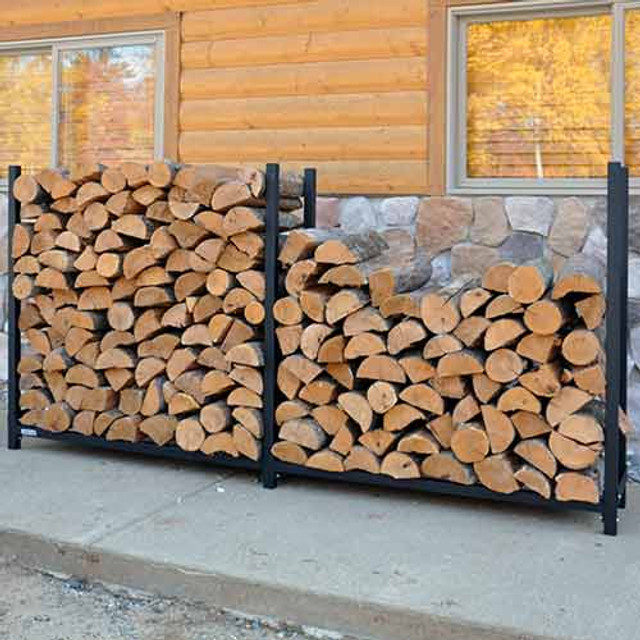 WoodEze Log Racks - Expandable Racks
WoodEze 1 Face Cord Firewood Rack -The WoodEze Expandable Wood Rack is proven to be the best firewood rack on the market when it comes to withstanding the rugged elements of the harsh winter season. Wind, hail, rain, and snowstorms are no match for the heavy-duty, super strong, 16-gauge square tubing. Holds approximately 1 Face Cord of firewood neatly stacked.
WoodEze 1 1/2 Face Cord Firewood Rack - The WoodEze 1 1/2 Face Cord Expandable Wood Rack is hands down the most durable log rack on the market today. Its quality heavy-duty, 16-gauge metal tube construction and powder-coat finish ensures the racks integrity and allows for a lifetime of dependable service. Shop the WoodEze 1 1/2 Face Cord Firewood Rack.
WoodEze Super Heavy Duty 2 Face Cord Firewood Rack - The Expandable Wood Rack has earned recognition as a favorite among homeowners and wood burners for its electro powder coated finish, that is virtually scratch and weather resistant, and stainless-steel hardware that is guaranteed to never rust. Aside from the hefty construction, the WoodEze Expandable Wood Rack offers simple installation that assembles in minutes and a versatile expandable addition at a price that is too good to pass up. Holds approximately 2 Face Cord of firewood neatly stacked. Shop the WoodEze 2 Face Cord Firewood Rack.
Indoor Firewood Racks - Firewood Carriers & Holders
Indoor firewood racks are a great option, even if you have a large one outside where your wood seasons. Indoor racks are typically smaller in size and don't hold as much but will provide you with a small load conveniently closer to your stove or fireplace. Some racks double as a carrier allowing you to carry more logs at a time and then store them nicely near your fire.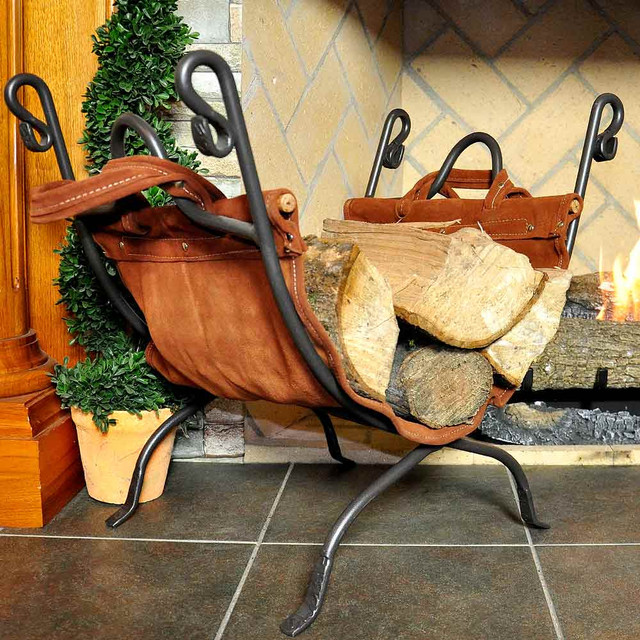 Don't forget to look for firestarters and holders for those as well. Northline Express has so many options to not only keep your hearth clean, organized and well-stocked but they can also add a decorative touch as well.
Let us here at Northline Express help you stock up and prepare for this year's cold season!